In Memory
Randy Udall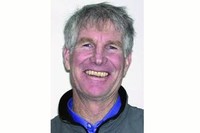 From the Arizona Daily Star 7/4/2013:
A search team found the body of Morris K. Udall's son, James "Randy" Udall, in Wyoming's Wind River Range on Wednesday after he didn't return from a solo backpacking trip.
Udall, 61, who grew up in Tucson while his father represented the city in Congress, had left June 20 for a weeklong trek. He set off from a trailhead 10 miles northwest of Pinedale. He was due back a week ago.
An aerial team spotted Udall's body on its side, in open, rolling terrain, Sublette County sheriff's officials said.
While an autopsy is forthcoming, it appears he died of natural causes, the family said in a statement released by the office of Randy Udall's brother, U.S. Sen. Mark Udall of Colorado.
"Randy left this earth doing what he loved most: hiking in his most favorite mountain range in the world," the family said.
Udall, a father of three, had told his wife and indicated on a sign-in sheet at the trailhead that he planned to head for the scenic Titcomb Basin. The family said Wednesday it appeared he was on the obscure, off-trail route.
"The entire Udall family is touched beyond words by the tremendous outpouring of support from people around the country. Randy's passing is a reminder to all of us to live every day to its fullest, just as he did," they said.
Randy Udall, who lived in Carbondale, Colo., was an environmentalist and energy-efficiency advocate.
Although he never sought public office, his family is famous in Western politics.
The Colorado senator is his older brother. New Mexico Sen. Tom Udall is a cousin. His uncle, Stewart Udall, was Interior secretary in the 1960s. His father represented Tucson in Congress for 30 years and made a presidential run in 1976. Randy's uncle Burr Udall is a longtime Tucson attorney.
James Randolph "Randy" Udall was born in Tucson on Oct. 29, 1951, the second-eldest of six children born to Mo Udall and his first wife, Patricia. His other siblings are Judith, Anne, Bradley and Katherine.
Randy attended Canyon del Oro High School in Tucson, graduating in 1969.
In the early 1980s, Randy covered the Sanctuary Movement for the Tucson Citizen newspaper, traveling with the underground railroad as it brought refugees from Central America to the United States.
"Randy broke the story" of the Tucson-based Sanctuary Movement, the Rev. John Fife, retired from Tucson's Southside Presbyterian Church, recalled Wednesday night.
"He actually broke it earlier than we wanted him to, alerting the national media," Fife added with a chuckle.
"It's so sad," Fife said upon hearing of Randy's death. "He just loved creation. He loved the earth."
In 1988, Randy co-authored his father's book "Too Funny to be President," collaborating with Mo and Bob Neuman, said Tucson journalist and author Don Carson, a biographer of Mo Udall.
Among his other books, Randy also co-wrote "National Parks of America" with Stewart Udall and David Muench.
Randy Udall helped found the nonprofit Community Office for Resource Energy Efficiency, which promotes the use of renewable energy in the Aspen, Colo., area. Under the program, people building large homes in the Aspen area pay an energy fee which is then used to pay for rebates for energy reducers like efficient appliances or solar power systems.