40th Reunion Recap
The 40th reunion started Friday night (October 9, 2009) with an informal get together at Tanya (Brown) and Robert Glover's beautiful house in the Tucson Mountains. There was a lot of questioning looks and guesses as people tried to figure out who they were talking to. And there was a lot of food and drink consumed as everyone caught up with each other. There were about 65 people there with spouses and significant others.
The next morning everyone showed up at CDO to take a tour of the school. A lot of new buildings were evident but we were also able to see a lot of the ones we were most familiar with (i.e., the MPR, gym, and we even got to sit at desks in one of the classrooms in the 100 building). It was surprising how noisy the halls seemed when we all were there. The buildings seemed smaller than what we remembered too!! We discovered the Senior Lawn that our class dedicated. And there were a lot of memories that were brought up in the gym while reviewing the team pictures and records.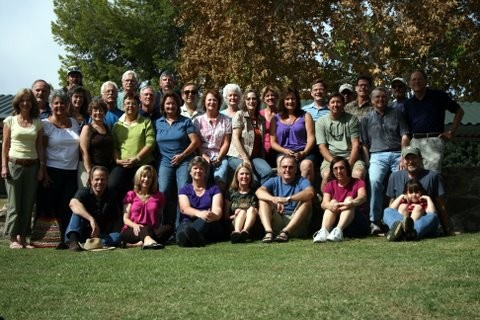 Saturday evening everyone was at Tohono Chul Park (a beautiful local natural park). The evening started out with everyone getting their formal picture taken and then on to cocktails and then a great Mexico food buffet. After dinner, everyone went back to the Wilson Room where there was a presentation that was MC'd by Pat Abeln (who did a great job!). After the presentation there was more catching up, dancing, and overall a great time for everyone before the parks was closed up.
The feeling by most everyone was that they thought it was a great time and want to do it again -- not exactly sure when -- some felt 5 years was too soon...