In Memory
Jon Richardson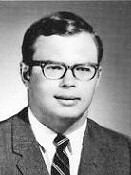 Jon Alan Richardson, 52, of West Branch, died December 14, 2003, in an accident on Interstate 80 near West Branch, along with his son, Raymond Daniel Richardson-Hart, 11. His wife, Jacinta Hart, 49, and daughter, Elizabeth Ruth Richardson-Hart, 12, of West Branch, survived the accident.

He is also survived by his sister, Judith Ann Richardson, of Tucson, Arizona; brother, Joel Albert (Debbie) Richardson, of Naperville, Illinois; and niece and nephew, Jill Eileen and Adam Richardson, also of Naperville.

Jon was preceded in death by his parents, Merlyn Leroy and Elizabeth Kurtz Richardson, of Tucson, Arizona, and sister, Nora Eileen Richardson.

Jon was born in Prescott, Arizona, on October 22, 1951, the son of Merlyn Leroy and Elizabeth Kurtz Richardson.

Jon followed his mother and grandmother Kurtz into education after graduating from Arizona State University, teaching English and media at the middle-school and high-school levels. Jon met his wife, Jacinta, when they were teaching high-school English together in Nogales, Arizona.

Jon and Jacinta, daughter of Merwin and Elizabeth Hart, both deceased, of Walcott, married in Iowa City, in July of 1988. They moved from Nogales, Arizona, to Kingman, Arizona, where Jon taught in the Peach Springs School District. They moved to Iowa in 1989. After completing a master's in library science at the University of Iowa, Jon worked as school librarian in Washington and Muscatine, and Gallina, New Mexico, before he became the librarian of the West Branch Public Library. As librarian, Jon was able to share his lifelong love of literature with the community. Jon helped with the coaching of Raymond's soccer and baseball teams and offered his shop for use by Ray's Cub Scout troop.

Private services were held for the family. A public memorial service, where the community may also honor Jon and Raymond, will be held at a later date, not yet determined. The Barker Funeral Home in West Branch is in charge of arrangements.